Zerto Technology Company Analysis
| | |
| --- | --- |
| ✅ Paper Type: Free Essay | ✅ Subject: Information Technology |
| ✅ Wordcount: 1342 words | ✅ Published: 20th Sep 2017 |
Bishal Shrestha
Project management Risk and Reliability
Zerto is the company which provides disaster recovery software for virtualized infrastructure and the cloud. In 2011 at VMworld Awards The main product of Zerto Zerto Virtual Replication won "Best in Show". Zerto company was founded in 2009, which was held privately funded by the Battery Ventures, U.S. Venture Partners and Greylock. Oded Kedem and Ziv who was a former founder of Kashya co-founded the Zerto company. Zerto Company launched their first software called Zerto Virtual Replication 4.0 that allows the recovery, protection and migration of data among MicrosoftHyper-V and VMware Sphere, also across many prive or hybrid cloud situation counting the AWS( Amazon Web Services).
The two core objectives of the venture between an angel investor (Venture capitalistic) and Zerto are
Profit earning
Zerto aims to earn profit by selling their main product Zerto Virtual Replication as much as possible with angel investor.
Market share
One of the objectives of Zerto is to expand its market share by increasing number of customers.
SWOT analysis of the objectives
Strength
The product of Zerto helps to create virtual infrastructure and cloud for recovering data during disaster. This type of product is highly demanded so can contribute in earning profit.
Since Zerto is well knowm and award winning company, its Venture with angel investor can increase the number of clients resulting the increase of market share.
Weakness
Zerto being in the market for long time, the products lacks innovations in comparison to new companies. This can be hindrance in sale of the product.
Zerto has been working with many other investors, new venture with new investor may arise conflicts and difficulties in the organization. This may result in loosing of clients as well as discourage new clients.
Opportunities
The increase in natural disasters due to environmental changes, troubles from hackers create opportunities to sell the product.
The venture with angel investors provides opportunities for Zerto to attract new clients and explore new markets, thus helps to increase market share.
Threats
Emerging of new similar companies with new products and venture creates difficulty for Zerto to sell their product.
Pursuing for new clients and new market with new investors may cause loss of old clients and market. Thus, this may result is decrease of market share.
Mind map of the product
The product developed to achieve the identified objective is Zerto Virtual Replication (ZVR).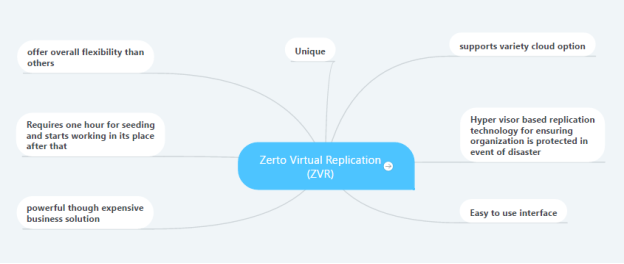 Positive Stakeholders    
Stakeholders those who help in increasing market share of Zerto are listed below:
Comvita
EUKOR Car Carriers Inc.
Family Investments
Fayat Constructions
Foresight Financial Group
Employees
Owner
Users
Team members
Advertising company
Negative Stakeholders
Likewise the competitors who possess threat to Zerto Are as follows:
IBM
Sanovi
Dell EMC
Continuity Software
Net App
Governmental policies
Customers
Other companies
Staffs
Market
Mind map of the Zerto to reach its respective objectives.

The initial investment for ZVR is $860,000.
The company invested $130m to start the product with 360 people and now is generating $35m revenue every year.
Zerto Virtual Replication is powerful tool for ensuring organization security even in event if disaster. It is unique and offers more flexibility than others. It supports variety of cloud options i.e. not only their cloud options but also of third party or other organizations.
As power, security and flexibility does not come I cheaper price, the cost of Zerto Virtual Replication is well justified by its quality and performance.
Amount invested
| | |
| --- | --- |
| Tasks | Investment |
| Lease | 120,000 |
| Team members | 220,000 |
| Advertisement | 50,000 |
| Developers | 250,000 |
| High speed internet | 40,000 |
| Electricity | 60,000 |
| Interior | 120,000 |
Every coin has two sides, similarly Zerto Virtual Replication has pros and cons as well. Some of the risks related to this product are
Tangible Risks
Zerto Virtual Replication is expensive product.
It is very challenging to construct supporting infrastructure require to operate ZVR.
ZVR operates only with support of cloud.
ZVR requires cloud support from different distant places more location (i.e. two or more in different geographical regions)
Due to flexible cloud option third party may get benefit.
Intangible Risks
Zerto Virtual Replication could not replicate or seeding is not done if intenet speed is slow.
Zerto Virtual Replication lacks ability to protect non-virtualized network resources.
Zerto Virtual Replication is difficult to understand and manage as it uses cloud technology.
Zerto Virtual Replication allows for storage agnostic replication hence is a complicated technology.
Others tough offers in markets
The risk can be measured reliably. Though Zerto Virtual Replication is expensive but it is very powerful tool and performs according to its cost. Zerto Virtual Replication is hypervisor based replication technology that moves asynchronous replication from the physical storage and disk arrays to the virtualization abstraction layer. This allows for storage-agnostic replication i.e. a virtual machine can be replicated to another VM operating on a different storage technology.
Since, Zerto Virtual Replication requires cloud support it has most flexible cloud options so, can support cloud of any organizations. Though, it requires high internet but afterward works in its place with usual internet speed. Even it is complicated technology and mechanism but has easy to use interface and is user friendly.
Therefore, Zerto Virtual Replication is powerful though expensive can handle business continuity extremely well. Thus these reduce the risks.
References
En.wikipedia.org. (2017). Zerto. [online] Available at: https://en.wikipedia.org/wiki/Zerto [Accessed 21 Mar. 2017].
Zerto. (2017). Zerto: About Us. [online] Available at: http://www.zerto.com/about/ [Accessed 21 Mar. 2017].
Cite This Work
To export a reference to this article please select a referencing stye below:
Reference Copied to Clipboard.
Reference Copied to Clipboard.
Reference Copied to Clipboard.
Reference Copied to Clipboard.
Reference Copied to Clipboard.
Reference Copied to Clipboard.
Reference Copied to Clipboard.
DMCA / Removal Request
If you are the original writer of this essay and no longer wish to have your work published on UKEssays.com then please: