Quality and Performance Management Methods: Process Analysis
| | |
| --- | --- |
| ✅ Paper Type: Free Essay | ✅ Subject: Health |
| ✅ Wordcount: 1118 words | ✅ Published: 21st Sep 2017 |
Patricia Hall
An indispensable piece of any essential care regimen, particularly for elderly and debilitated people, is the appropriate utilization of medications. People age sixty-five and more consume more than 33 percent of doctor prescribed medications, averaging fourteen treatments for each individual yearly. Assesses starting at 1999 recommended that conceivably wrong medicines are being given to around 25 percent of seniors living in the community. Appropriate use involves expert assessment and access to the right drugs. (Whitelaw & Warden, 1999). Medication errors are classified as mistakes with the potential to cause harm to a patient to those resulting in fatalities. The process analysis tool used, a flowchart, is an accurate method of outlining categories of medication errors and suggested corrective action (Appendix A).
Get Help With Your Essay
If you need assistance with writing your essay, our professional essay writing service is here to help!
Essay Writing Service
In Michigan nursing homes, critical pharmaceutical blunders are very normal. Information demonstrates that a few patients have gotten too much, not enough, or the wrong medicine altogether. Government records indicate that in the early 2000s, 144 critical drug mistakes have been identified by investigators (Jones, 2013). Wood TV's Target 8 reported fatalities associated with poor gear or missing drug. At Boulevard Manor in Detroit, a lady went into diabetic shock, however when the attendant got a crisis diabetic pack, it didn't have the required medicine. It caused irreversible cerebrum harm, then demise, as indicated by an examination finished in August 2012 (Kolker, 2014). Incidences of mismanagement of medications is an ongoing issue in Michigan nursing homes.
Drug security, therapeutic oversights, conditions acquired via healthcare, data framework imperatives, and divided conveyance frameworks are a portion of the many issues influencing human services quality and welfare. Tending to these difficulties requires associations record effective and dependable information that can be changed into useable data to help in creating change techniques (AHIMA, 2011).
Many variables that add to mistakes and the drive to "place fault" on healthcare specialists are:   
verbal instructions 
poor correspondences inside healthcare groups
poor penmanship
incorrect medication choice
missing medicine
erroneous planning
polypharmacy
medicine interactions
accessibility of floor stock (no second check)
rushed workplace
absence of computer decision backing
Changing over information into important data for basic leadership requires the aptitude of credentialed HIM experts. HIM experts have one of a kind information and ability to empower solid associations with clinical and executive groups to propel the quality and security of patient care conveyance. What's more, successful HIM hones exact information assignment, capture, examination, slanting of social insurance operations and patient security, and yield of target information for basic leadership (AHIMA, 2011). The quality of medication administration for long-term nursing home patients can be improved in three categories of participation.
In general:
a security culture is vital to enhancing prescription safety (empower voluntary reportage)
senior administration must dedicate satisfactory attention to safety- give adequate assets to quality enhancement and safety groups
approve assets to put resources into innovations, for example, computerized provider order entry (CPOE) and electronic health records
Prescribers:
utilize sound med compromise strategies
stay away from verbal requests with the exception of emergencies
keep away from shortened forms (U for units seen as a 0)
advise patients of explanations behind all meds
act as a group with expert drug specialists and nurses
use special caution with high-hazard medicines
report mistakes and ADEs (adverse drug events)
Pharmacists:
screen the drug security information
in conjunction with specialists and attendants, create, execute, and follow a prescription blunder evasion plan
confirm the precise entry of information on new prescriptions (stay away from shortened forms; utilize TALLman lettering) e.g. Morphine HYDROmorphone
report mistakes and close misses to internal and external medication error reporting programs (Mitchell, 2000)
As can be seen, the problem of medication errors in long-term care facilities is an ongoing issue. Categories of medication errors range from potential harm to death of the patient, and must be addressed in an ongoing approach.
References:
AHIMA (2011). HIM Functions in Healthcare Quality and Patient Safety. Journal of AHIMA, 82(8), 42-45. doi:http://library.ahima.org/doc?oid=104841#.WLR4mTvyvIU
Jones, R. (2013, November 14). Prescription for danger: Medication errors inside nursing homes lead to hospitalization, death. Retrieved March 2, 2017, from Investigations, http://www.wxyz.com/news/local-news/investigations/prescription-for-danger-medication-errors-inside-nursing-homes-lead-to-hospitalization-death
Kolker, K. (2014, November 11). Deadly mistakes: Inside Michigan nursing homes. Retrieved March 2, 2017, from http://woodtv.com/2014/11/10/deadly-mistakes-inside-michigan-nursing-homes/
Mitchell, J. F. (2000). Uh oh, did " I " do that ? Medication errors in long-term care. Retrieved from https://www.michigan.gov/documents/lara/03MedicationErrorsinLTC_453565_7.pdf
Whitelaw, N. A., & Warden, G. L. (1999). Reexamining the delivery system as part of medicare reform. Health Affairs, 18(1), 132-43. doi:https://search.proquest.com/docview/204632246?accountid=417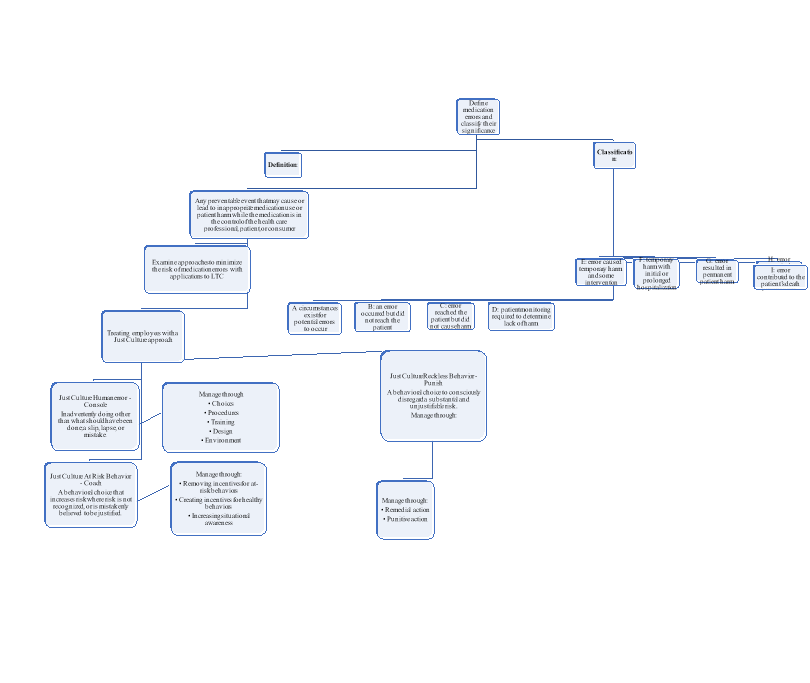 Cite This Work
To export a reference to this article please select a referencing stye below:
Reference Copied to Clipboard.
Reference Copied to Clipboard.
Reference Copied to Clipboard.
Reference Copied to Clipboard.
Reference Copied to Clipboard.
Reference Copied to Clipboard.
Reference Copied to Clipboard.
DMCA / Removal Request
If you are the original writer of this essay and no longer wish to have your work published on UKEssays.com then please: