Adam's Building & St Mary's Church: Nottingham Architecture
| | |
| --- | --- |
| ✅ Paper Type: Free Essay | ✅ Subject: Architecture |
| ✅ Wordcount: 1173 words | ✅ Published: 1st May 2018 |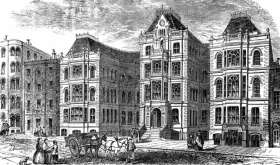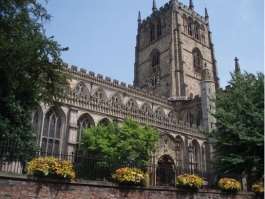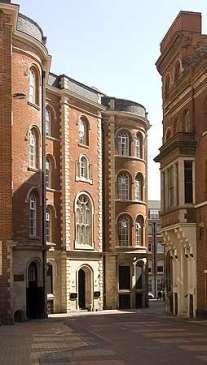 Outline the stylistic and technological contexts which influenced the buildings
In this patchwork essay I will be outlining the stylistic and technological context which has influenced my chosen buildings, which is the Adam's Building and St Marys Church in Nottingham.
The Adam's Building dates back to the 10th July 1855 has been the largest building in the Lace market district of Nottingham City centre. When Nottingham was the heart of lace production around the globe the building was once a lace warehouse and also a showroom for the people. The building got its name after Thomas Adams who was once a famous Quaker and industrialist in the 19th century.
Get Help With Your Essay
If you need assistance with writing your essay, our professional essay writing service is here to help!
Essay Writing Service
The St Marys Church is known to be the oldest parish in Nottingham and is believed to date back into the Saxon times. The building dates from the end of the reign of Edward III (1377) to that of Henry VII (1485-1509). The entire nave was finished before 1475. It is also The University church for the University of Nottingham and several schools and organisations hold annual services here.
Many organisations hold annual yearly services and many use its
function for a place of worship.
As mentioned above, Adams was a Victorian industrialist with strong Quaker views and a deep social conscience. He had selected a local Nottingham based architect Thomas Chambers Hine who was drawn equally to history and technical innovation. Between them they created a building which, for a variety of social and architectural reasons, is now a quite a unique building. The building shows series of construction from 1854 to about 1874. The earliest phase of the building was when it faced Stoney Street with its unique symmetrical frontage behind a railed courtyard. Adams was very determined had provided good facilities for his workers. A large area of the basement was designed as a chapel where nearly 500 workers and managers would share service each day. On the other hand indoor toilets and rooms where also provided for employees, records show various funds and savings and a book club. During winter heating was also provided by the use of coal and patent warm air which flues through ducts from a heat exchanger boiler.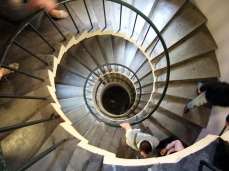 Adam's Buildings main entrance display area seems to have a very spectacular two storey light well in the centre of the building which is lit up by decorative gas lamps and approached by a grand staircase.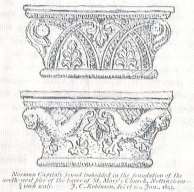 As time went by the building became as part of Nottingham's heritage and was later listed as a grade 2 building. £16.5 million was also spent on the building for refurbishment allowing the site to convert into Nottingham's college. Several floors had to be altered
so that it met the buildings requirements.
The main reason for refurbishment of the building was
during the WW2 when the RAF used parachutes to
store their belonging and this had damaged several floors which forced the building to close in the 1950s. The building became into disrepair as many of the floors were structurally unsound and often heavy machinery had caused some of them to fail.
St Marys church is the only the present building on the site which occupies a prominent position in what was originally the Saxon town of Nottingham. Over the years great amount of work was done on the fabric of the church. In 1588 the tower vaulting collapsed into the church and was not replaced until 1812. The foundation stones of the piers of the tower had consisted of various fragments of a much earlier building, probably Saxon, or very early Norman. They consist of capitals, shafts, bases, arch mouldings, and plain ashlar of strong grit-stone.

In conclusion to my two building i have outlined the stylistic
and technological context which has influenced the two
buildings. Over the years the two building has played
a very important part for their people. The importance of
these great two buildings only comes to know if we research
thoroughly.
Bibliography:
http://viewfinder.historicengland.org.uk/search/detail.aspx?uid=145421
http://www.pastscape.org.uk/hob.aspx?hob_id=1317165
http://flickriver.com/photos/bobwatt/tags/staircase/
https://sarahormerodntuarchitecturaltechnology.wordpress.com/author/sarahnormerod/page/2/
https://static1.squarespace.com/static/56275a18e4b0361a456e9c4d/t/5630e9abe4b0d9f80f94ded6/1446046123819/adams-history-leaflet.pdf
http://www.nottinghamenglishschool.com/location/
http://www.experiencenottinghamshire.com/discover/adams-and-page-building-p666951
http://southwellchurches.history.nottingham.ac.uk/nottingham-st-mary/harchlgy.php
http://www.stmarysnottingham.org/about_st_marys.html
Cite This Work
To export a reference to this article please select a referencing stye below:
Reference Copied to Clipboard.
Reference Copied to Clipboard.
Reference Copied to Clipboard.
Reference Copied to Clipboard.
Reference Copied to Clipboard.
Reference Copied to Clipboard.
Reference Copied to Clipboard.
DMCA / Removal Request
If you are the original writer of this essay and no longer wish to have your work published on UKEssays.com then please: